Flame Star Seal Dragon Knight
[ACT](VC/RC):[Counter Blast (1)] If you have a vanguard with "Seal Dragon" in its card name, all of your opponent's units cannot intercept until end of turn.
One of the "Seal Dragons" that was allowed to return to the surface temporarily, if meant that they could gain any advantage over the invaders. A knight who was responsible for the safety of the emperor's castle several hundred years ago, it was embroiled in the frequent coup d'etat and was manipulated by a rebellious mage. As a result, it was punished as a heinous criminal for endless destruction and slaughter. Not only it was imprisoned in "Magma Prison" and had his power sealed, its name was divested as the greatest punishment of that time. The last scene it saw before being completely sealed was the beam of light shone from the closing gate of prison. After that, it sought "freedom" and "light". It became a professional of darkness who would accept the dirtiest work in order to gain a chance to get out. Whenever it completes a mission, it steps one step forward to become truly free as its term of imprisonment is reduced. It butchers the invaders solely for its freedom, without the slightest thought to save this planet or its nation.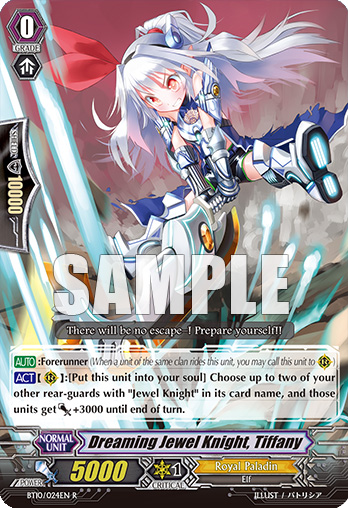 _________________
Irgendwie nicht so berauschend der Seal Dragon. Der Effekt kann man ganz nützlich sein, auch damit der Gegner seine G2er für die eigenen Effekte behält, doch CB1 ist dafür einfach nicht das Wahre. Dafür ist er zu speziell und daneben halt einfach ein 9.000er Vanilla.

Tiffany ist ein netter Starter, da sie einfach mal 2 Lines auf 21.000+ bringen kann und daneben auch eine 5.000er Unit ist, die man auch bis Effektnutzung unterm VG liegen lassen kann.
_________________
Kolumnen:
Vanguard:
V-Analyzer
Turnierberichte:
T-Analyzer
My Anime List Profil

Raito




Anzahl der Beiträge

: 53


Anmeldedatum

: 03.12.13


Alter

: 104


Ort

: Kiel





Ähnliche Themen
---
Befugnisse in diesem Forum
Sie können in diesem Forum
nicht
antworten