Regalia of Omniscience, Minerva
[AUTO](VC) Limit Break 4 (This ability is active if you have four or more damage):[Counter Blast (1) & Soul Blast (3) & Choose three «Genesis» from your hand, and discard them] At the end of the battle that this unit attacked, you may pay the cost. If you do, [Stand] this unit, and this unit gets [Power]+5000 until end of turn. This ability cannot be used for the rest of that turn.
[CONT](VC):If you have a card named "Regalia of Wisdom, Angelica" in your soul, this unit gets [Power]+2000.
[CONT](VC/RC): Lord (If you have a unit without a same clan as this unit, this unit cannot attack)
An emanation of the supreme creator deity who created the world of Cray. It is written that she was incredibly powerful and the original God of War. She poured the most love of all into the birth of the planet Cray, intending to watch the future of this eternal world, but at that time, she understood that her existence would become a pillar that held the world of Cray aloft. Nonetheless, after praying that she wished to remain on this world, she bound herself with incredibly powerful fetters and chains on her power, body and soul. As a result, she was sealed into an idol of herself. After what seemed to be an eternity of sleep, a ray of light pierced her eyes. That light gradually got stronger and stronger, and when it finally covered her entire line of sight, she found herself standing on the earth with her own two feet, once more. What lay before her was a young woman sleeping calmly, the new master of the Sacred Regalia "Glory Genesis", the machine of creation that she, Minerva, once possessed. The Goddess of War had finally returned to the living world, with a flood of emotions swelling up from inside her heart. Chiefly, should would completely annihilate anyone foolish enough to dare harm this world, her most precious child.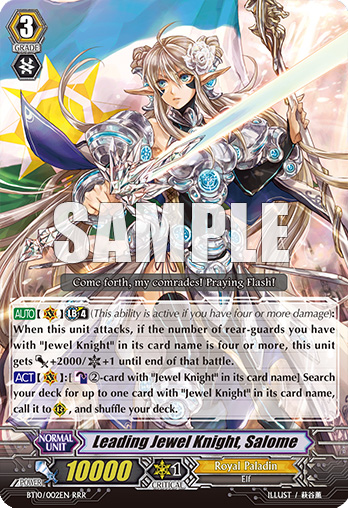 _________________
Minerva kann man wohl als besten G3er für GS ansehen, einfach der Spielstärke geschuldet. Auf den Breakride geridet hat man einen 13.000er VG, der sich für 3 Handkarten standen kann und dann alleine auf 18.000 kommt. Dazu kommen die 2 Handkarten, die man durch Angelica zieht. CB1 und 3 SB sind auch nicht so teuer, als dass man den Skill nicht häufiger benutzen kann, wenn man will.
_________________
Kolumnen:
Vanguard:
V-Analyzer
Turnierberichte:
T-Analyzer
My Anime List Profil

Raito




Anzahl der Beiträge

: 53


Anmeldedatum

: 03.12.13


Alter

: 104


Ort

: Kiel





Ähnliche Themen
---
Befugnisse in diesem Forum
Sie können in diesem Forum
nicht
antworten