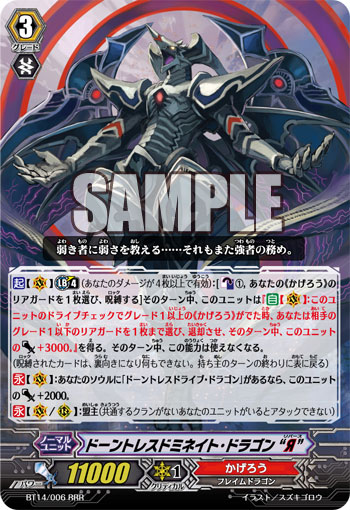 Dauntless Dominate Dragon "Reverse"
[ACT](VC) Limit Break 4 (This ability is active if you have four or more damage):[Counter Blast(1) & Choose one of your «Kagerō» rear-guards, and lock it] Until end of turn, this unit gets "[AUTO](VC): When this unit's drive check reveals a grade 1 or greater «Kagerō», choose up to one of your opponent's grade 1 or less rear-guards, retire it, and this unit gets [Power]+3000 until end of turn.". This ability cannot be used for the rest of turn.
(The locked card is turned face down, and cannot do anything. It turns face up at the end of the owner's turn)
[CONT](VC): If you have a card named "Dauntless Drive Dragon" in your soul, this unit gets [Power]+2000.
[CONT](VC/RC): Lord (If you have a unit without a same clan as this unit, this unit cannot attack)
This is "Dauntless Drive Dragon" after being twisted by the power of the avatar of Void, "Link Joker". Influenced by "Reverse", its fearsome personality to pursue victory and power was revived. Hearing that a squad of "Kagerō"'s rookies was ambushed, it rushed to the battlefield alone, disregarding its subordinates' advices. However, what awaited it were the cruelly demolished rookie squad and "Chaos Breaker Dragon", who was delivering the fatal blow to the last rookie. The old general charged, roaring as if it was crying, but this was in fact the trap of the Clown. Locked by thousands of hidden soldiers, its torn heart was implanted with "Void".

Even in the end, this dragon was not bent to desperation. Those who could become strong in the future were killed meaninglessly---the dauntless dragon could do nothing but to kneel down before such a sorrowful scene.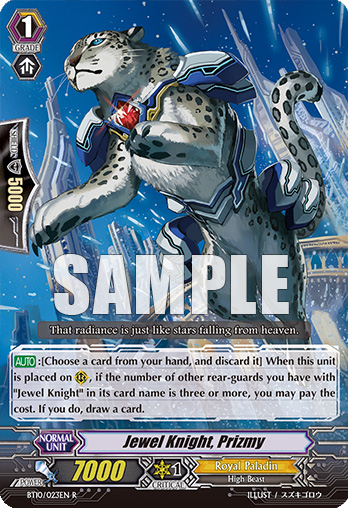 _________________
Der DDDR ist ja schon lange bekannt, ändert aber nichts daran, dass ich mich schon auf ihn freue. Quasi direkt nachdem ich mir den ersten DDD zugelegt habe und wieder mit Kagero anfangen wollte, wurde sein Effekt bekannt. Besseres Timing ging nicht.

Effektmäßig finde ich ihn nach wie vor gut. Sein Effekt für CB1 +Lock1 kann zwar auch mal umsonst aktiviert sein, doch in dem Fall haben wir auch 2 Trigger getroffen und das kann man wohl verschmerzen. Ridet man den DDDR auf den DDD, lohnt sich sein Skill eh doppelt und räumt nicht selten die komplette Backrow weg. Sein Effekt bringt dann danach zwar nichts mehr, da er nur die Backrow schießen kann, doch wenn man dann einen Crossride mit 13.000 liegen hat und der Gegner keine Booster mehr hat und neue gleich weggesniped werden, wird es schwer werden.

Seinen Powerboost darf man auch nicht vergessen, da sich der DDDR nach Ride auf DDD durch die 4 Drive Checks immer mehr aufpowern kann, da der Boost ja auch bis zum Ende des Zuges anhält. So oder so muss der Gegner beim Angriff des DDDrs auch mit dem Boost rechnen, bedeutet beispielsweise wenn er mit einem Gojo unter sich angreift (ohne Crossrideboost) kommt er auf 18.000. Bedeutet der Gegner muss schon mit der Möglichkeit rechnen, dass ein Trigger und ein Non-Trigger erscheint, der dann am Ende +8.000 also 26.000 ergibt.

Alles in allem finde ich den DDDR schon sehr gelungen.
_________________
Kolumnen:
Vanguard:
V-Analyzer
Turnierberichte:
T-Analyzer
My Anime List Profil

Raito




Anzahl der Beiträge

: 53


Anmeldedatum

: 03.12.13


Alter

: 104


Ort

: Kiel





Ähnliche Themen
---
Befugnisse in diesem Forum
Sie können in diesem Forum
nicht
antworten