Light Spear Liberator, Lynette
[AUTO](VC/RC):[Counter Blast (1)] When this unit's attack hits a vanguard, you may pay the cost. If you do, look at up to five cards from the top of your deck, search for up to one grade 3 or greater «Gold Paladin» from among them, reveal it to your opponent, put it into your hand, and shuffle your deck.
A knight in one of the Sanctuary's two standing armies, "Gold Paladin", he is one of the Liberators, and was one of the top spear wielders in the Blue Falcon Corps. Due to his cool, collected style, he's been considered as a "The kind of guy who never misjudges" by the leader of the Blue Falcon Corps. The weapon he carries was the result of a joint project between the knights and "Genesis". He was chosen to wield and test out one of the first Mass-Produced Laser Combat Weapons "Shiny Spear", known generally as the "Light Spear". It's incapable of breaking the curse of "Lock", but it's able to dispel the influence of a weaker amount of "Void" on a soldier. If someone like him is forced to fight, he can bring out the power of his weapon to the point it functions like a tailor-made device, and the data it brings in is incredibly useful. The Liberators, who have been secretly sharpening their swords and spears have finally begun to act. They will free the people from the terror of the invaders who have driven Cray's people to the brink of despair.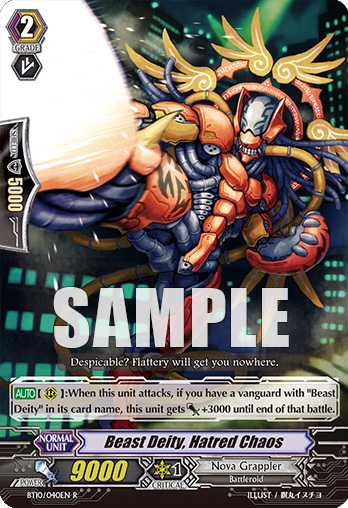 Die GP Promo hätte ich gern ganz schnell. Könnt ich gut gebrauchen.
_________________
Noch mehr Druck und Konstanz für Gold Pala? Seems legit~

Hoffentlich bekommen alle anderen Clans auch mal was...




Chibi Gaara




Anzahl der Beiträge

: 13


Anmeldedatum

: 03.12.13


Alter

: 17



So eine Karte wie Lynette können viele Clans gut gebrauchen, da die Unit einfach als G2er Ride die Chance bietet sich seinen Breakride oder halt alternativ seinen Haupt-VG zu holen, was viele Decks konstanter machen würde. GP ist wohl so ziemlich einer der letzten Clans, die eine solche Unit benötigen, gerne nehmen tun ihn alle GP-Spieler aber sicherlich trotzdem gerne.

_________________
Kolumnen:
Vanguard:
V-Analyzer
Turnierberichte:
T-Analyzer
My Anime List Profil

Raito




Anzahl der Beiträge

: 53


Anmeldedatum

: 03.12.13


Alter

: 104


Ort

: Kiel





Ähnliche Themen
---
Befugnisse in diesem Forum
Sie können in diesem Forum
nicht
antworten